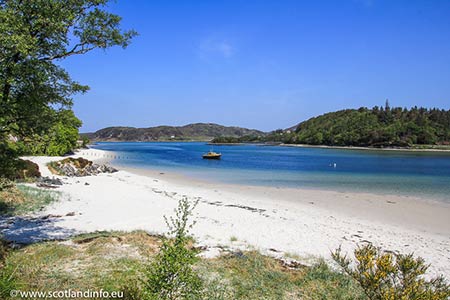 Scotland is a country with many amazing attractions and sights and it has a culture that is full of Anglo-Saxon history and tradition. Recognized as a place that can cater to the interests and needs of any type of traveler, a trip to Scotland is a must for anyone and every visitor can find something interesting and exciting to do in Scotland. If you search the internet for Things to do in Scotland you'll find out that it's full of articles titled "Top 10 Places in Scotland" and "Best places to Visit in Scotland" and most of them share the same places to go to and things to do. Not a bad thing of course but we like to show you the other beautiful parts of Scotland too!
An alternative to all the "Must Do Scotland" and "Top 10 Scotland" articles is to take you to Ten of the most beautiful coastal areas in Scotland, not just the beaches, but stretches of coastline with quaint little towns, yes lovely beaches too and a beautiful hinterland where you can get a real sense of Scotland. With well over 6,100 miles of mainland Scottish coastline there is plenty to see, enjoy, be amazed about and discover. These are typically the areas where you don't usually see a lot of folk, where you can make lovely walks, admire stunning scenery, visit pretty wee towns, make stunning car tours and enjoy the peace and quiet you sometimes miss out on when you do visit those "Top 10 Places in Scotland".
The Silver Sands of Morar – Arisaig to Mallaig
In the right weather some beaches in the west of Scotland resemble the Mediterranean with white sandy beaches, clear blue and turquoise seas and lush vegetation. This is never more so the case close the village of Morar, where the river Morar flows into the sea. The white sandy beach is called the Silver Sands of Morar. The stretch of coastline from Arisaig to Mallaig, along the "Road to the Isles", is one of the most beautiful in Scotland. It's for a good reason that the famous Scottish movie Local Hero was shot on a beach a mile from the Silver Sands of Morar. The view at sunset towards the Cuillin on Skye and the Small Isles is one of the finest on the west coast. Read more here about Arisaig, Morar and Mallaig
Lochinver to Stoer
Lochinver is the largest fishing town in the North-West Highlands, roughly an hours drive north from Ullapool, the Pearl of the North. To the North-West of Lochinver is a South-West facing stretch of land which is home to some amazing beaches and coastal scenery. Achmelvich Beach and Stoer Bay are just two pearls in this necklace of coves, cliffs and sandy inlets. This is an area waiting to be discovered and once you reach the Lighthouse of Stoer you are rewarded with magnificent sea views and a fascinating walk to the Old Man of Stoer, a 60 metres tall sandtone pillar in the ocean. Read more about this stunning area here
The Lothian Coast from Dunbar to Portobello
A fascinating coastline stretches from Dunbar on the East Coast almost all the way to the heart of Edinburgh. There are some lovely villages and sea-side towns in this part of Scotland. Dunbar, which is also known for being the birth place of John Muir, has a nice harbour that includes remains of Dunbar Castle and since 1780 home to the well known Belhaven Brewery. Further to the North-West is Tantallon Castle with views towards Bass Rock, home to a large colony of Gannets. Further along the coast is the lovely seaside town of North Berwick with some beautiful beaches, a marina and pretty town centre. Between North Berwick and Port Seton are a few nice beaches and four Golf Courses in the Dunes, no wonder this area is also referred to as Scotland's Golf Coast. Further along the coast is Musselburgh, one of Scotland's oldest towns and the largest town in Lothian. This magnificent stretch of coastline ends in Portobello, a charming seaside suburb of Edinburgh with a very nice beach. More info is available in our East Lothian Guide
Oban – Gateway to the Hebridean Islands
When friends ask me which part of Scotland they MUST see, I always advise them to visit the West Coast and a few of the islands. Perhaps I'm biased because I live on an island off the West Coast but I'm not the only one with this opinion. Many others consider the West of Scotland one of the most beautiful areas in Europe. The seas are clear and marine wildlife is abundant and the many islands are all unique in their own right. The seaside town of Oban is the gateway and from here one can reach almost all the island in the Inner and Outer Hebrides. Besides being a gateway to the Hebridean islands, Oban is also a very pleasant town to visit and a few nights in this town are highly recommended. We have a page about Oban and a page with further info about the Islands of Scotland
Moray and Banffshire Coast
White-washed cottages, splashed with colour; narrow lanes running between rows of weathered houses; harbours that gather in restless boats; a frame of long, swaying grass against a sandy beach; old dinghy boats planted with flowers; piles of stones, shells and blue-netted lobster pots adorning gardens and doorsteps. If you want to lose yourself in a maze of lanes, contemplate life from the top of a sea-facing dune or collect spectacular sunsets, head for the Moray and Banffshire Coast. Join our Guest Writer Emma Gibb on her trip along the Moray and Banffshire Coast
The Far North and East
With a low level coast on the Eastern side and high rugged cliffs and stacks on the Northern side, the Caithness Coastline between Wick, John o'Groats and Thurso is one of the most scenic in the North of Scotland. Thurso and Wick are the core settlements, and are centred on harbours and make their hard earned living on a combination of sea fishing and leisure and tourism. In between is the Northern Highland village of John o'Groats which provides visitors with a dramatic, natural scenery and captivating wildlife. Dunnet Head, the mostly northerly point of mainland Britain, is only 11 miles away while Duncansby Head Lighthouse and the Stacks of Duncansby are a little over one mile from John o'Groats. All there is to see and do can be found in our Guide of John o'Groats, Wick and Thurso
Durness, Cape Wrath and Sandwood Bay
Spectacular coastal scenery is yours when you take the time to visit this coastal area. Cape Wrath is the most Northwesterly tip of mainland Scotland and it's very remote and difficult to visit. It requires a wee passenger ferry to cross the Kyle of Durness and an 11 mile minibus trip to reach the lighthouse. Sandwood Bay, 9 miles to the south, is even harder to reach. From Blairmore, where you need to park, it's a four mile walk to reach this beautiful sandy beach. There is no other means of transportation. Chances that you find yourself alone there are quite good! Durness is the main village in this part of Scotland with a population of around 400 and it offers stunning views towards the cliffs on the north coast. More info on our Durness and Cape Wrath page
Crail & Pittenweem – East Neuk of Fife
Scotland has some amazing picturesque seaside fishing villages and the most beautiful ones can be found where you least expect them, in the County of Fife, south of the Home of Golf, St Andrews. This area, or corner, of Scotland is called East Neuk which stands for East Nook or Corner. Crail goes back a long way, as far back as the Pictish period, that's the early middle ages. Marketgate, in the medieval heart of the village, was once the largest market place in Europe. It's a sheer pleasure to wander through the streets and enjoy the harbour views. Nearby Pittenweem is further south and just as lovely as Crail. It's only one and a half hour drive from Edinburgh away and very much worth visiting! More info here
East of Inverness to Nairn
This might be a somewhat unexpected entry in between the other listings. However, this is a surprisingly interesting stretch of Moray Firth coastline which starts at Fort George and to the East of the lovely seaside town of Nairn. Opposite Chanonry Point, on the Black Isle, is one of the most beautiful forts in Europe, Fort George. It is the mightiest artillery fortification in Britain, if not Europe, and is highly recommended for a visit. Afterwards a wee trip to Nairn is a must! Nairn is an ancient fishing port and market town and has a very pleasant beach and seafront, an interesting history, lovely wee cottages in Fishertown and an attractive town centre. More info here
Red Point Beach to Rubha Reidh Lighthouse
Wester Ross is one of the most stunningly and wild areas of Scotland and the coastline is just amazing. Red Point Beach can be found on the North shore of Loch Torridon, opposite the Applecross Peninsula. This is an amazing Reddish/Pink sandy beach backed by rather high dunes. Fantastic for a family day out. Following the coastline to the lovely village of Gairloch you pass wee settlements like South Erradale, Port Henderson and a few others, all of them offering beautiful views over the ever changing coastline. Around Gairloch are quite a few beautiful beaches and further North-West is "Big Sand" which also has a large campsite. Further north is a single track road which ends at the Rubha Reidh lighthouse. Halfway folk are encouraged to leave the car but you don't have to. The drive up there is just stunning, not for the faint hearted though, and the views on a clear day towards the Isle of Skye and the Outer Hebrides are breathtaking. We have extensive coverage of both Wester Ross and the aforementioned spectacular stretch of coastline
photo of nairn is copyright by Mick Garratt
This content was originally published here.